Call Now! 845-342-3901
Rubber Materials & Compounding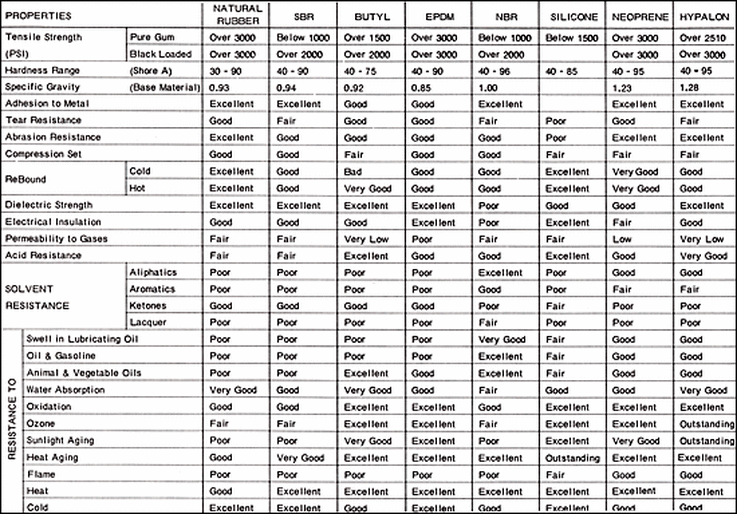 AA - Natural, SBR, Butyl
BA - High temperature SBR, Butyl EPDM
BC - Neoprene
BE - Neoprene
BF - Nitrile
BG - Nitrile & Urethanes
BK - Nitrile & Thiokol
CE - Hypalon
CH - Nitrile
DE - Polyacrylic
FC - Methyl Phenyl Silicones
FK - Fluorinated Silicones
GE - Dimethyl Type Silicones - Santoprene - PVC
Characteristics of Rubber Compouds

NATURAL (ISOPRENE) RUBBER

ADVANTAGES:
NATURAL RUBBER exhibits high resilience, good tensile strength, and tear resistance. In addition to excellent wear resistance, NATURAL RUBBER also offers low permanent set characteristics plus good flexing qualities at low temperatures.

DISADVANTAGES:
NATURAL RUBBER does not perform well when exposed to chemicals and petroleum derivatives, including petrochemicals. It is not recommended for outdoor applications where maximum resistance to sunlight, ozone, oxygen or heat aging is major factors.

TYPICAL APPLICATIONS:
Boots, belts, bumpers, tubing.

SBR (STYRENE BUTADIENE RUBBER) RUBBER

ADVANTAGES:
SBR provides good abrasion, wear, and tensile qualities. SBR can be readily substituted for NATURAL RUBBER in many applications with significant cost savings. Resilience is about the same as NATURAL RUBBER.

DISADVANTAGES:
Like its natural counterpart, SBR offers little resistance to oils and chemicals. SBR must be specially compounded to provide resistance to ozone, sunlight, and heat.

TYPICAL APPLICATIONS:
Washers, gaskets, grommets.

NEOPRENE® (POLYCHLOROPRENE) RUBBER

ADVANTAGES:
NEOPRENE® is resistant to ozone, sunlight, oxidation and many petroleum derivatives. Added advantages include good resistance to water, many chemicals, good resilience characteristics and high tensile strength properties.

DISADVANTAGES:
NEOPRENE® has few practical limitations. While NEOPRENE® is slightly higher in price than general purpose synthetic rubbers, its resistance to ozone, oil and chemicals make it cost effective in many applications. It is generally attacked by strong oxidizing acids, esters, ketones, chlorinated, aromatic and nitro hydrocarbons.

TYPICAL APPLICATIONS:
Plumbing fixtures; gaskets; hose; mechanical seals; mechanical belts; solid rocket propellant; garden hose; inner tubes; laboratory tubing.

ACRYLONITRILE-BUTADIENE (NBR) RUBBER

ADVANTAGES:
NITRILE (NBR) is resistant to petroleum oils and aromatic hydrocarbons, as well as being highly resistant to mineral oils, vegetable oils, and many acids. It also has good elongation properties and demonstrates adequate resilience, tensile and compression set.

DISADVANTAGES:
Because of its cost, this elastomer is usually recommended for applications where oil resistance is a major problem. NITRILE (NBR) is generally attacked by ozone, ketones, esters, aldehydes, chlorinated and nitro hydrocarbons.

TYPICAL APPLICATIONS:
Automotive hose, seals and grommets; oil field packing and seals; roll covers.

EPDM (ETHYLENE PROPYLENE DIENE MONOMER) RUBBER

ADVANTAGES:
EPDM exhibits excellent resistance to ozone, oxidants, and severe weather conditions, thereby making it an outstanding material for outdoor applications. Other characteristics of EPDM include excellent color stability, heat resistance, and dielectric qualities. EPDM offers many of the advantages of neoprene, at a lower cost.

DISADVANTAGES:
EPDM is slightly lower than both natural rubber and polyisoprene in resilience and tensile. It is generally attacked by mineral oils, solvents, and aromatic hydrocarbons. Therefore EPDM is not recommended for applications involving petroleum derivatives. Because EPDM tends to be conductive when carbon black is mixed in the compound it is not recommended as an electrical insulator.

TYPICAL APPLICATIONS:
Automotive coolant hose, weather stripping, boots, seals grommets, dust covers, sleeves, mounts.