Call Now! 845-342-3901
Rubber Extrusions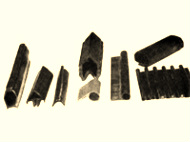 Delford Industries specializes in custom rubber extrusions and related products.
Within our plant we:
Compound and mix elastomers to virtually any specification.
Machine dies, splicing molds, etc.
Extrude-using both conventional and continuous cure techniques.
Mold corners, splice endless and perform all associated secondary operations.
Mark, inspect and pack to commercial and military standards.
---
EXTRUSION CAPABILITIES

We extrude using a combination of traditional and modern methods. Traditional steam curing and continuous curing are used where appropriate.

STEAM CURING:
This method is used for short runs, when form curing is required, when a curved set is advantageous to the application or when using "non black" compounds. In general, size is limited to a maximum of five inch diameter.

CONTINUOUS CURING:
Continuous curing (by either microwave or molten salt bath processes) is used on larger quantities or when a continuous length is advantageous to the application. In general, size is limited to a cross-section up to three inches by five inches.

CUTTING:
Lathe cutting is the method used to produce close tolerance washers and seals. High speed Versa ("flying knife") cutters are used on long runs of washers and similar parts. Rotating Thropp ("banjo") cutters are used on larger cross-sections. Intermittent type cutters are used in-line on long continuous runs. Guillotine type cutters are used on longer lengths of larger cross-sections.

SPLICING:
We supply spliced-endless gaskets and gaskets with corners. The splicing is accomplished by cold bonding, vulcanization and molding. All splicing molds, jigs and fixtures are machined or fabricated in-house.